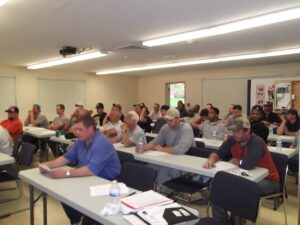 Safety is very important at State-Wide Electric.  All of our employees are required to be at least OSHA-10 certified, as well as to keep up on various other certifications including:
OSHA-10 Certificates
Scissor Lift Licenses
Powder-Actuated Tool Licenses
Not only are we sure to keep such certifications up to date, we also have organized our own Safety Committee.  Our committee holds quarterly meetings with various people from different levels of our staff.  Each member in this meeting helps to discuss safety concerns, as well as work to address any future situations that may arise before they occur.
In addition to our Safety Committee meetings, we conduct company-wide meetings yearly at minimum, and require ALL workers to meet weekly and participate in our tool box talks.
If a project you propose to us requires any extra safety needs, State-Wide Electric will be sure to go the extra mile to acquire any needed training or certifications for our employees.